I recently attended the Clarins "Beautiful At Any Every Age" event in Sandton City at Stuttafords. I have always a been a big fan of this brand but have never taken the plunge and bought any of their products. The theme of this event was around their new anti-aging skin care range. This range definitely caters to all women at each milestone age. As I sat there listening to all the interesting facts about the brand, it dawned on me that I am hitting the 30's milestone! Right then and their I decided, its tome to make the investment. I bout a few items which I will mention below.
Clarins Lipstick
If you know me then you know there is no way I can leave any brand without trying one of their lipsticks. How gorgeous is thie packaging? So chic and gold! This shade is called
Tropical Pink #04
Rouge Éclat. It is a satin finish age-defying lipstick.
It has a creamy age -defying texture with luminous, satin finish. It smoothes and promotes more beautiful looking lips. The nutri-youth complex delivers rich, nourishing benefits and promotes comfortable feeling lips.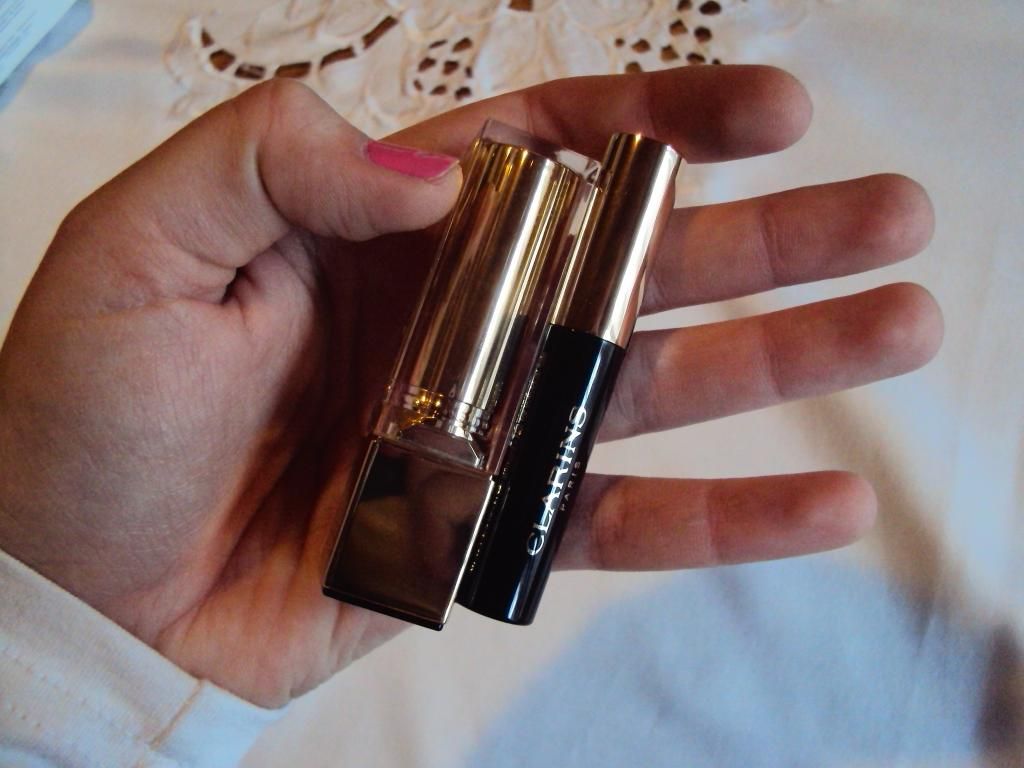 Beautiful at 30: Multi-Active Essentials
*For all skin types
I could not decide what to buy so I bought this pack (Apologies for the blurry photo). It was definitely worth the price and I can now try some of their other products.
Early wrinkles? No thank you! (Non merci)
This pack targets the first signs of aging with these perfect skin treatment partners:
Multi-Active Day 50ml
– Early wrinkle correction cream – All skin types -full size
Expert age – control skin care to correct early wrinkles and loss of tone from 30 onwards. Protects against daytime aggressions to preserve youthful looking skin. Ensures satin-smooth complexion radiance
Multi-Active Serum – Apply before usual moisturizer – Trial size
Multi – Active Night Youth Recovery Cream – Normal to combination skin – Trial Size.
Complementary Gift with purchase:
Double Serum -Complete Age Control Concentrate – 7 Sachets
Beauty Flash Balm – Brightens and tightens
Be Long Mascara – #01 Intense Black
So far I am in love with all my products. I you would like a more in depth review of any of the products, let me know.
What are your favourite Clarins products?
 Miss V